Often we find some of the EMIF is located near the components that are at risk if it got hot. eg EMIF 2630 Keypad that is located close to the CPU. or on a mobile phone simcard EMIF 1650. sometimes if we lift using a blower. Contact our cell phones even so the total sertive or even die because part of the heat.
The following little trick of om Ichal, may be beneficial and reduce the risk of your work technician .. which may have a lot in practice by you.
First prepare a roll of solder and tin
Then navigate to the EMIF our soldiers to be lifted and melted tin on top of the EMIF, then leave for a while until the heat sink to the EMIF
after the heat soak into EMIF .. EMIF will move by itself .. do not be forced to move because EMIF will create an end to the pcb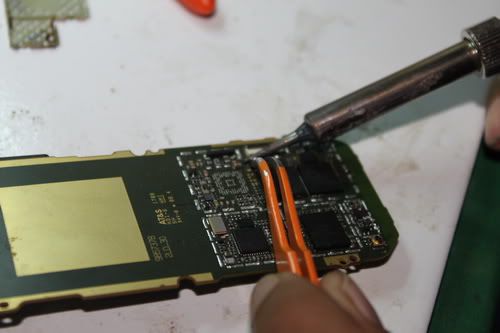 after the move, .. stay lifted deh pake tweezers …

Staying clean the rest of the tin until evenly deh
completed… Now your CPU is safe, so less risk of job
may be useful
You can follow us on twitter or join the facebook fanpage
.